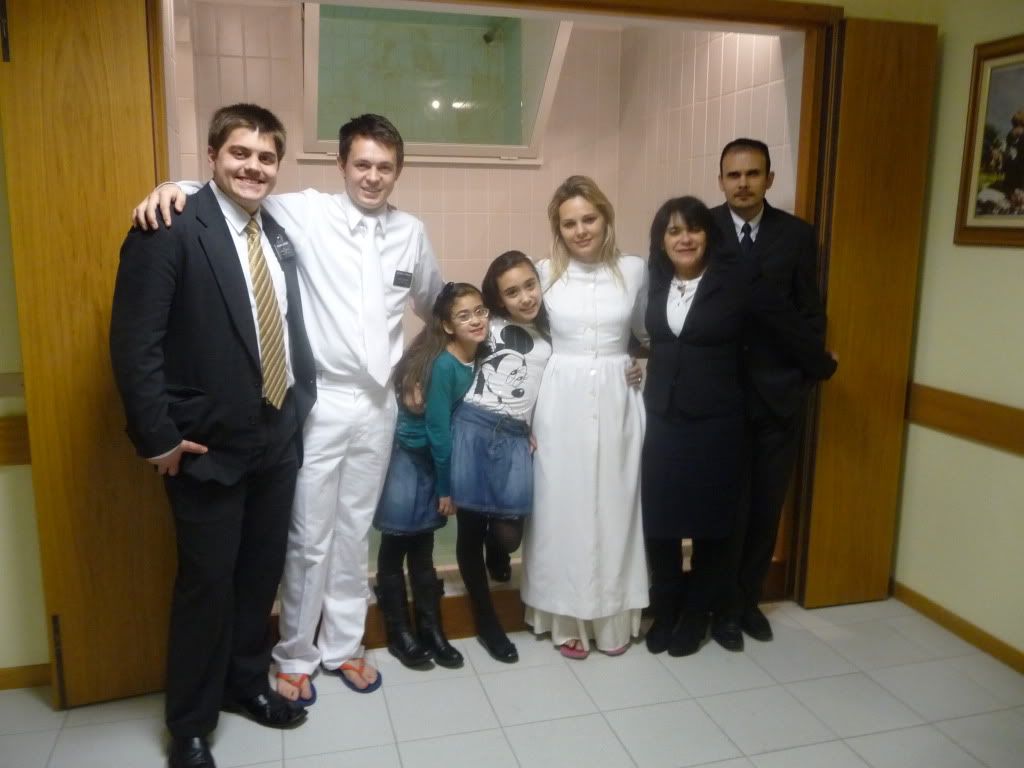 WELL HELLO DEAR FAMILY_
I?M REALLY EXCITED TO BE WRITING TO YOU: WELL I AM but I'M ALSO typing on a keyboard that?s so old and broken that the caps lock goes on and off whenever it wants and not when I WANT: please do your best to interpret my letter:
tHis week has been rEaLly grEat actually. We hAd aLINES BAPTISM WHiCH WAs ReALLY GReAt. it Was kiNd of funny because sHe's leaviNg to gO study in spain this weeK. i felt bad tellinG tHe meMbeRs thaT tHey werE aBoUt to lose theiR latest nEw cOnvert. A few days befoRe we went to visit aline. sHe wanted tO know morE aboUt president monsOn becauSe he's thE prophet and well it's prettY obvious why she would kinD of want tO know wHo hE is. We haVe a video aboUt hIm so we were watching thAt. BeforE we started the video she said she hAd some questIOns abouT polygamy tahT she wanTed to ask us about after thE movie wAs over. AFTERWARDS SHE ASKED US ABOUT POLYGAMY, ANd SAID SHE HAD BEEN READING ABOUT HOW No ONE CAN FIND THE CITy OF BOuNTIFUL ANd JUST A LOT OF OTHEr AnTI MORMoN STUFF. i was getting nervous until sHe said "but i dOn't care about any of thAt stuFf. I'M NOT GETTINg BAPTISED FOR GOLD PLATES OR A PROPHET OR THE CITY BoUNTIFUL OR ANYThING LIKE ThAT. i'm gettiNg baptised because i know tHis is true. I JUST KNOw It. i'vE seeN so maNy chuRches anD nOne of them haVe ever attractEd mE, bUt here I CaN FEEL A DIFFErENCE." I'Ve NEVER SEEN AnYONE HAvE SUCH COnFIDENCE In THEIR TESTIMONY So EARLY On. it makes me thInk about how maNy peOple I'VE TRIED tO EXPLAIN THiNGS TO WITHOUT ThEM REALLY HAvING A TESTIMONY. it's amaziNg what a diFference iT makes when peOple feel the spirit and then learn abOut things as opposed tO doing it in the opposite ordeR.
transfeRs are next week sO I ShOULD FIND OUT SOMETIME On MONDAY OR TUESDAY WHAT'S HaPPEnING. IT'S A WEIRD SITUATION BECaUSE BOTH ANZ. ChIPMaN AnD I HAVE BEEN HErE FOR THE SAmE AMOUNT OF TiME. THERe IS A CHANCE THaT WE CoULD STAY TOGETHEr BUt IT'S MOsT LIKELY THAT ONE OF US WILL LEAVe. i can feel it too. ANZ. cHIPMAN IS TO THE POINT WhERE He'S READY To LEAVE THE NEST AND MOVE ON To NOT BEING WITH HIS TRAINER. HE LOVES ME BUT HE'S READY To TAKE ON MORe. maybe he'll get a really young companion next transfer. it woUld be gooD fOr him. the reAl questiON is whIch one of us will go. prEsident fairly often sends missiOnaries tO a nEw city for their lAst transfeR which i thInk wOuld be kind oF weird. IT'S AlSO ReALLY WEiRD To ThInk That thiS Is THe BEGiNNING Of MY LAsT TRANSFEr. it dOesnt rEaLly feel real. IT DoES In SOME WAYS BECAUSE I HaVE TO THINK ABOUT SCHOOL AND STUFF LIKE THaT BUT I DON'T FEEL DETACHED FROM THe WORK AT ALL. iN fact I FEEl MORE ENGAGED IN THE WORk THAN EvER.
happy birthday dad. aNd mom. anD xandeR. wow. what a fun weeK we hAvE ahead.
thanKs foR explaining siri tO mE gAbe. I WAS WONDErInG WHAt ThAT WAS. ALSO PLEASE PUT ASiDE THE BEST RALPH WALDO EMERSoN BOOKS FOR ME XAnDER.
I ALMOST FoRGOT. i got thE nicest envelope frOm tHe mitchells thIs week. Tell them thaNkS foR me. I LOVE THEIR LETTErS. AND i probably wOuld haVe actually cApitalized loVe in thaT sentence.
DiD YOU SIGN ME UP FoR THE VIDEO CLASS MOM? i waS thinking aboUt how much fun thaT soUnded tHis week.
i loVe you all very much. i just can't take writinG On this keyboard anymOrE.
haVe a greAt week.
love, ben